Liberation Travel
Enjoy your liberation!
We are a group of travel hackers, crypto fans, and entrepreneurs responsible for many successful companies and projects. We love traveling and helping people to become free. That was also a reason we started Liberation.travel.
00.
Liberation Travel offers you the liberation & adventure all-inclusive plan in Uraguay during just a one-week visit which helps you to get the Uruguayan temporary and then permanent residency as well as the Uruguayan bank account.
Why Uraguay?
Uruguay can be an ideal country for permanent residency because:
Uruguay is a territorial taxation country for physical persons. There

is no taxation duty in Uruguay for foreign income – this may be especially useful for crypto holders who often change their crypto to fiat. Unlike in Paraguay, you have to live at least six months per year in Uruguay to have a fiscal residency there (or invest approx. 380 000 USD in real estate or 1.5M company investments) 

Obtaining Uruguayan permanent residency is a cheap and straightforward process.
You have to visit Uruguay just for three days to ask for a temporary residence for two years (you must notify the Uruguayan Immigration Office 3 months in advance). After two years in Uruguay (you should live there most of the time), you can easily ask for a permanent residency in Uruguay.
Uruguay is one the most liberal country in the world (with legal LGBT marriages, marihuana, possession of all drugs for personal use), but at the same time is a very peaceful country where you can have a quiet life.
Cancellation of your EU residency provides a lot of benefits. They vary from one country to another, but in many European countries, it means, for example, no mandatory military service, no obligation to be a customer of healthcare oligopolies, and social insurance monopoly

In addition, two new continents will automatically become your new home –
the EU, where thanks to your EU citizenship you can stay indefinite period without any permits, and South America, where you can also move freely without a passport thanks to your Uruguayan national ID (Uruguay is a member of Mercosur, the Latin American version of Shengen)

Possibility to choose a global international health care insurance that is the most suitable for you

Managing your European companies is still possible in most countries.
The plan includes:
The return flight tickets from Europe to Montevideo (all-inclusive plan*)

Accommodation in 5 stars luxury hotel during your both visits to Montevideo (all-inclusive plan*)

Guidance in your home country to obtain all required documentation for the permanent residency (this process usually takes 4-6 weeks) (all plans)

Delivering all required documentation to our Uruguayan lawyers to start the immigration process (all plans)
Visit of the immigration office (with a notification 3 months in advance)

Guidance about what you should do in your home country to cancel your permanent residency, including all related insurances. Please note that local laws and procedures may vary in each country.

Recommendation about getting the international global health care insurance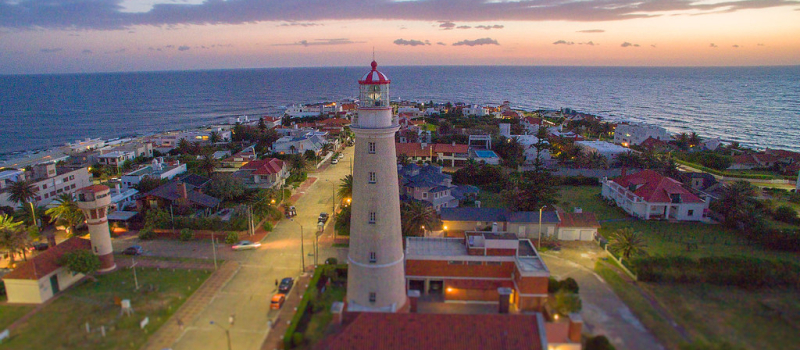 FAQ
Do you consider this business to be ethical towards the governments?
Of course. We are providing excellent feedback to all countries whose people decided to give up their permanent residency and prefer the Uruguayan one. If a lot of people choose to change their permanent residency, then something is wrong with their home countries. And it is a clear signal for their governments – to do something to be more attractive for all these people.
Don't you think only rich people will benefit from your services?
The Uruguayan permanent residency is the cheapest one in the world and can be afforded by most people in the EU countries.
Is Uruguay a safe country?
Is it easy for me to obtain the permanent Uruguayan residency?
Obtaining the Uruguayan permanent residency is probably the cheap and most straightforward process in the world:
You have to notify the Uruguayan immigration office about your planned visit at least three months in advance.
You apply for a temporary residency in Uruguay for two years (you need the Spanish translation of your list from the criminal records register and birth certificate with apostille)
The Uruguayan immigration office can check your intention to stay in Uruguay, so you should stay there most of the time for the first two years.
After two years, you can easily ask for a permanent residency.
Can you summarize the list of all documents I need for for my Uruguayan permanent residency?
Birth certificate (if you can't find it, it doesn't matter, you can ask for a copy).

Valid passport (we recommend having two passports if your home country supports it).

The criminal record from your home country and country of your residency.

Two ID photos
Health ID card (we recommend you a private clinic in Uruguay to get your Uruguayan Health ID card quickly).
Anti tetanus vaccine (you need to prove you have this vaccine within ten years)
Income (you have to prove that you earn at least 1200 USD monthly – we can help you with that).
Marriage certificate (optional).
This list from the criminal records register and birth certificate must be legalized for international use, translated into Spanish and apostille. Our agency covers this process (for some specific countries).
Is this service available for everyone?
We do not work for the politicians and politically exposed persons. Therefore we reserve a right for background checking of our customers.
Is Uruguayan permanent residency suitable for perpetual travelers and crypto holders?
If you want to use the tax benefits of Uruguay, you should live there most of the time or make investments.
If you don't plan to do that, we recommend obtaining a permanent and tax residency in Paraguay.
Suppose you give up your permanent and tax residency in your home country (officially, you should not be there more than six months per year), with your Uruguayan tax residency, as a physical person. In that case, you have no obligation to pay any taxes from your foreign income – Uruguay has territorial taxation for physical persons.
Unlike in Paraguay, Uruguay distinguishes between a permanent and tax/fiscal residency, so obtaining your permanent residence does not mean you automatically have the tax residency in Uruguay. If you want to have tax residency in Uruguay, you have to live there at least six months per year or make investments (approx 380 000 USD to the property or 1.5 M USD as your company investment in Uruguay).
We recommend using your Uruguayan national ID and proof of address at all your crypto exchanges.
Please always consult these situations with the lawyers and accountants in the given countries.
How often do I need to visit Uruguay to keep my permanent residency valid?
If you want to apply for a permanent residency in Uruguay, for the first two years (during your temporary residence) you should live there most of the time.
Do I have an obligation to pay healthcare insurance as a Uruguayan resident?
Only if you decide to be an employee in the Uruguayan company, otherwise not.
We can also help you with international healthcare insurance that covers your medical insurance almost in all countries.
Do I need any vaccination for my visit to Uruguay?
Yes. You need to have an anti-tetanus vaccine (within the last 10 years).
And now, COVID-19 vaccination too to enter the country.