Protect your financial privacy: 8 reasons why you need a Georgian bank account
At Liberation.Travel we will open it for you remotely!
· Do you want a bank account in a country that still respects the privacy of its clients?
· Do you want a bank account in a "crypto-friendly" bank?
Georgia is not only a country with excellent food, the best Borjomi mineral water, beautiful mountains (and people), but it is also the most capitalistic country in Europe at the moment (although most Europeans don't know about it) with "free trade" zones, where there are minimal taxes for defined types of business (e.g. IT services, 0% tax on crypto) and where banks are "crypto-friendly", unlike most of the rest of the world.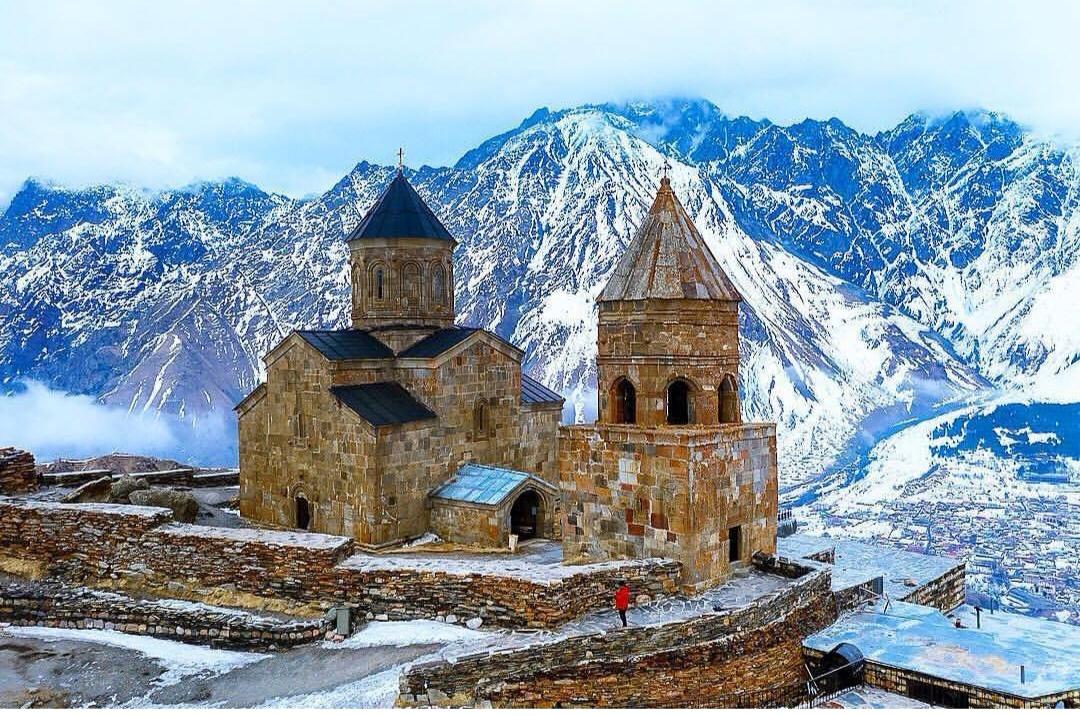 1. High protection of financial privacy
With the global spy plague called CRS sweeping through most of the developed world, there are few banks in the world that offer the privacy protection that Georgian banks do (including Paraguayan banks, among others).
Georgia has committed to enforcing CRS (Common Reporting Standard) from 2024 at the earliest, until then there is no CRS reporting (automated "bonzing") to your home country/tax residence about whether you have a bank account there at all (including balance/movement information).
2. Bank accounts automatically held in USD, EUR, GBP, and GEL (Georgian Lari)
Unlike Paraguayan or Panamanian bank accounts, in Georgia, you automatically have an account in euros, dollars, and pounds. So if you use a Georgian credit card to pay within the Eurozone, the exact amounts are debited from your Euro account and you pay no conversion fees. You only pay 15 GEL per month for account maintenance. Of course, this also applies to a USD account if you pay with a payment card in the USA, Panama, Ecuador, or other countries whose official currency is the US dollar. Euros or dollars can also be sent directly from your EUR/USD Georgian account (normal international transfer). However, if you can pay for everything by credit card (where payments are free), then bank transfers from Georgia to the EU/US usually don't make sense. They are expensive and slow.
3. Speed of bank transactions, speed of bank card issuance, virtual Visa or Mastercard debit cards.
Georgian bank accounts make one realize how slow and outdated banking is in the EU. Georgian transfers within the country are virtually instantaneous – instantaneous. Also, issuing bank cards is often a one-day operation. Bank of Georgia also allows you (like Revolut) to create virtual Visa or Mastercard debit cards, which you can pair straight with your Apple or Google Pay and literally pay anywhere. Maintaining a current bank account with the Bank Of Georgia currently costs 10 GEL/month.
4. Georgian banks are crypto-friendly and the tax on crypto is 0
Right off the bat, it should be noted that even though the crypto tax in Georgia is 0% for residents of Georgia (which means that changing fiat to crypto/crypt to fiat is not a tax event for the Georgian tax authorities), it doesn't mean that it won't be of interest to your tax authority in the country where you have tax residency.
It should therefore be noted that the obligation to pay taxes on cryptos depends on your tax residency – not on the country where you have a bank account!
The fact that Georgian banks are "crypto-friendly" means that they won't automatically block your bank account (such as when you send money from any crypto exchange to Revolut).
5. Georgia's largest crypto exchange supports Bank of Georgia
Georgia's largest exchange, Cryptal.com, supports both of Georgia's top banks (Bank of Georgia and TBC Bank). Since Georgia doesn't enforce CRS until 2024, Cryptal.com also doesn't automatically report anything (unlike most other crypto exchanges that are based in countries that have signed the CRS).
Withdrawing money from the Georgian exchange ("fiat withdrawal") is practically instant – as soon as you withdraw money from the crypto exchange, it will immediately be in your Georgian bank account. The fees for changing crypto to fiat (or vice versa) are nice – 0.25%. While there is a 2% fee for withdrawing to your bank account, this fee can be avoided if you are able to withdraw from the crypto exchange directly to your Bank of Georgia debit card. In this case, the fee is 0% + 1.20 GEL (0.33 EUR). However, you need to specifically verify this card on Cryptal.com. At Bank of Georgia, it is possible to apply directly for an AMEX (American Express) card, with the proviso that you can instantly create a virtual Visa/Mastercard in the Bank of Georgia mobile app (and directly bundle it with, for example, Apple/Google pay).
6. Possibility of secure login via DIGIPASS
You don't need a Georgia mobile number to open a Bank of Georgia bank account. For more secure use, I recommend activating DIGIPASS (which is a 2FA app directly from the Bank of Georgia) instead of regular text messaging.
For Bank of Georgia, you install the BOG Digipass app for Android or iPhone. Once installed, you select "activate app", enter your Internet Banking username (which you received via SMS when you opened your bank account), then log into your Bank of Georgia Internet Banking profile, click on "DIGIPASS / Send Digipass Activation code", an activation code will be sent to your mobile phone, which you will then use as an additional parameter in the BOG Digipass app.
7. Deposit insurance up to USD 500 000!
Deposit insurance on Bank of Georgia accounts is also available for non-residents of Georgia up to USD 500 000.
8. Option to open a bank account in Georgia completely remotely
At Liberation.Travel, we have fine-tuned the process of opening a bank account in Georgia (currently Bank of Georgia) completely remotely! You don't have to leave your home country at all to open it.
The whole process looks like this:
You sign and complete a Power of Attorney (PoA) stating that we can open a bank account for you. At the same time, you will complete the Bank of Georgia electronic KYC document.
We apostilise this power of attorney together with your passport.
You will inform us of your mobile number (which you want to link to your bank account) and the address where you want to send your AMEX (or other) card.
We will send this apostilled power of attorney with a certified copy of your passport by courier to Tbilisi.
As soon as we receive the above documents in Georgia, we will open a bank account for Bank of Georgia.
A few days later we will collect the payment card (AMEX standard) for you and deliver it by courier back to your address.
The whole process is secure, all key transactions need to be confirmed by SMS from your mobile number so we don't have access to your bank account.
You then run two-factor authentication through the Bank of Georgia Digipass mobile app as needed.
For more information, please feel free to contact us via email at Liberation.Travel.