Asunción has become (unexpectedly) a centre of interest for a certain group of Slovaks and Czechs who suddenly started travelling there in droves in order to obtain permanent residency there. While Asunción will probably never be the most sought-after tourist resort in South America, there is plenty to try there. I've compiled handy tips into this article – and please feel free to add to them 🙂
As for Paraguay itself, a great article that covers everything you need + lots of practical tips is this one: www.czickontheroad.cz/jak-vypada-paraguay-zajimavosti. The article is in Czech, but www.deepl.com will translate it into any language in a few minutes.
What to expect from Asunción (for those going first time)
As for the capital city of Paraguai, Asuncion, somehow the stress and chaos of other South American capitals has been forgotten. Asuncion looks more like a pleasant suburb where you can hear the birds chirping in the morning than the country's capital.
Of course, it also depends on where you are in Asuncion. We stayed in Villa Morra (Hotel Five), which is a rich residential neighborhood full of restaurants, cafes, and designer shops. Most of the buildings are low 2-3 story houses, the roads here are one-way and on Saturdays and Sundays there is barely a car on the road.
Those staying in the historic centre around the Catedral or Encarnation districts, for example, will have a different experience, where you'll find historic colonial buildings, but also more hustle and bustle, people and dirt (and some good cafes and restaurants).
Asunción has a total of 70 neighbourhoods. Some are affluent, residential and safe, others are not.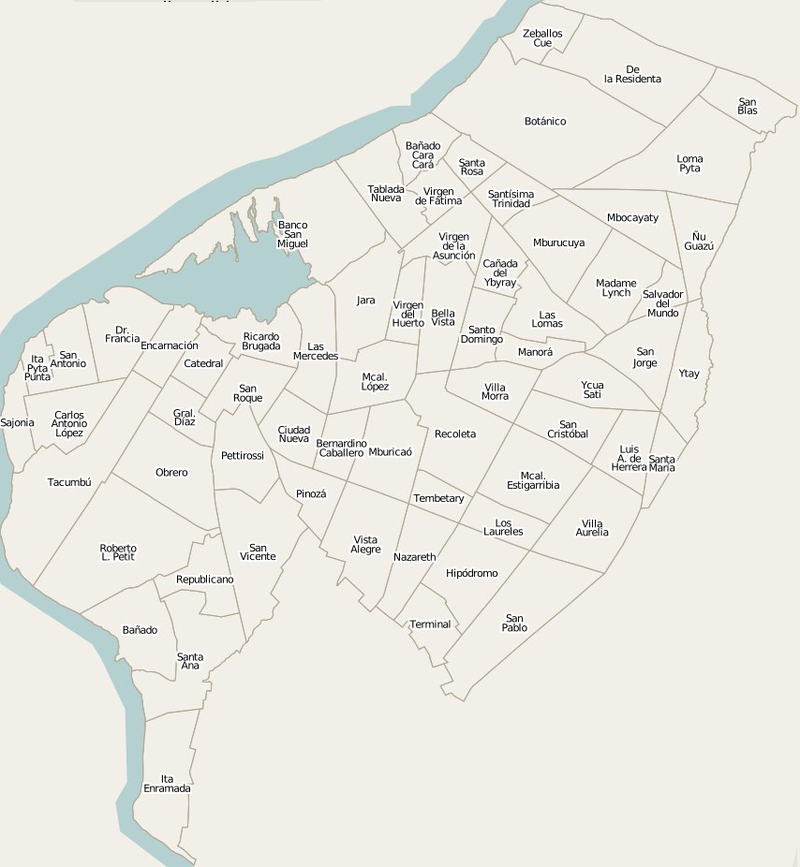 Poor barrios / neighbourhoods in Asuncion
Among the most dangerous in Asuncion, especially after dark, are:
To give you an idea of what I mean by bad barrios:
Bañado Sur: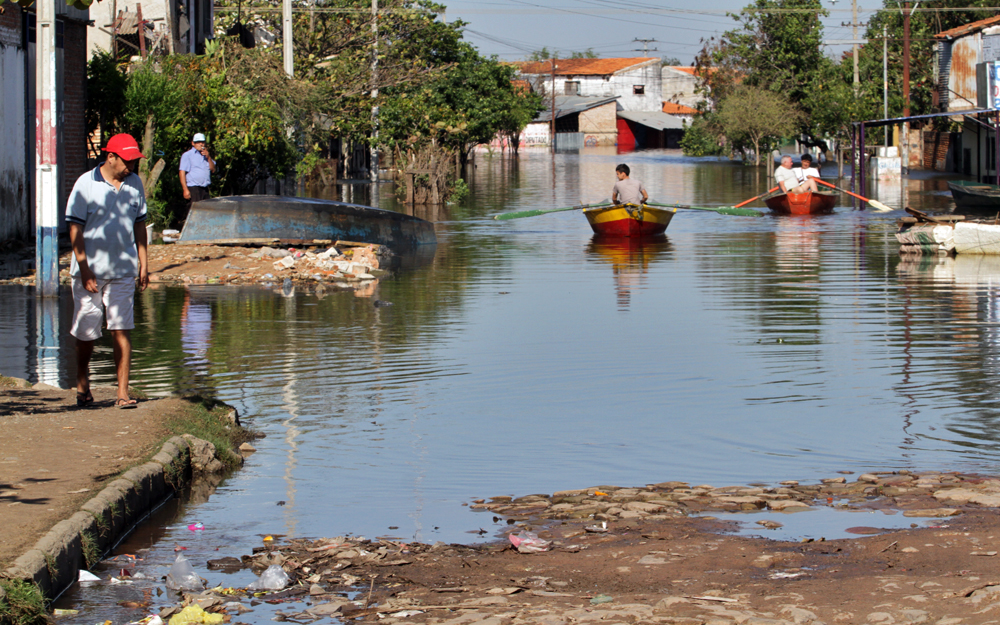 La Chacarita: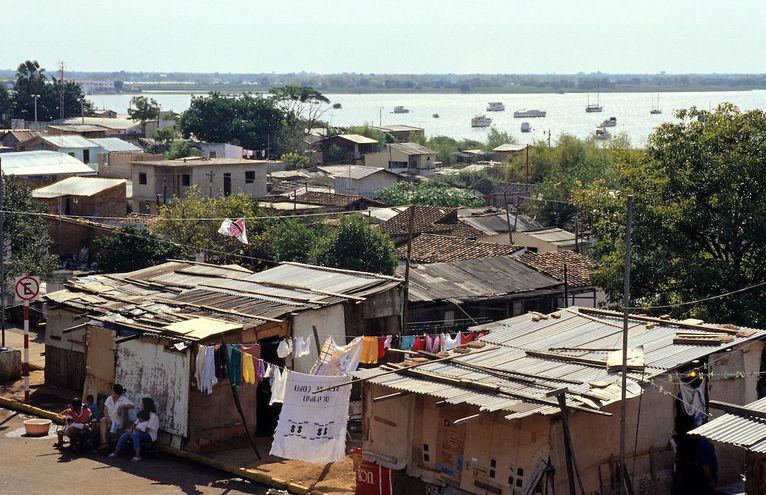 Downtown (places around the Presidential Palace and Congress) people on the forums also referred to as "shady" after dark, you need to be extra careful there.
Here is more info on the poorer neighbourhoods, which are not in principle dangerous: https://www.quora.com/What-are-the-good-and-bad-neighborhoods-of-Asuncion-Paraguay
An overview of the less safe neighborhoods in Asuncion is super summarized on this map: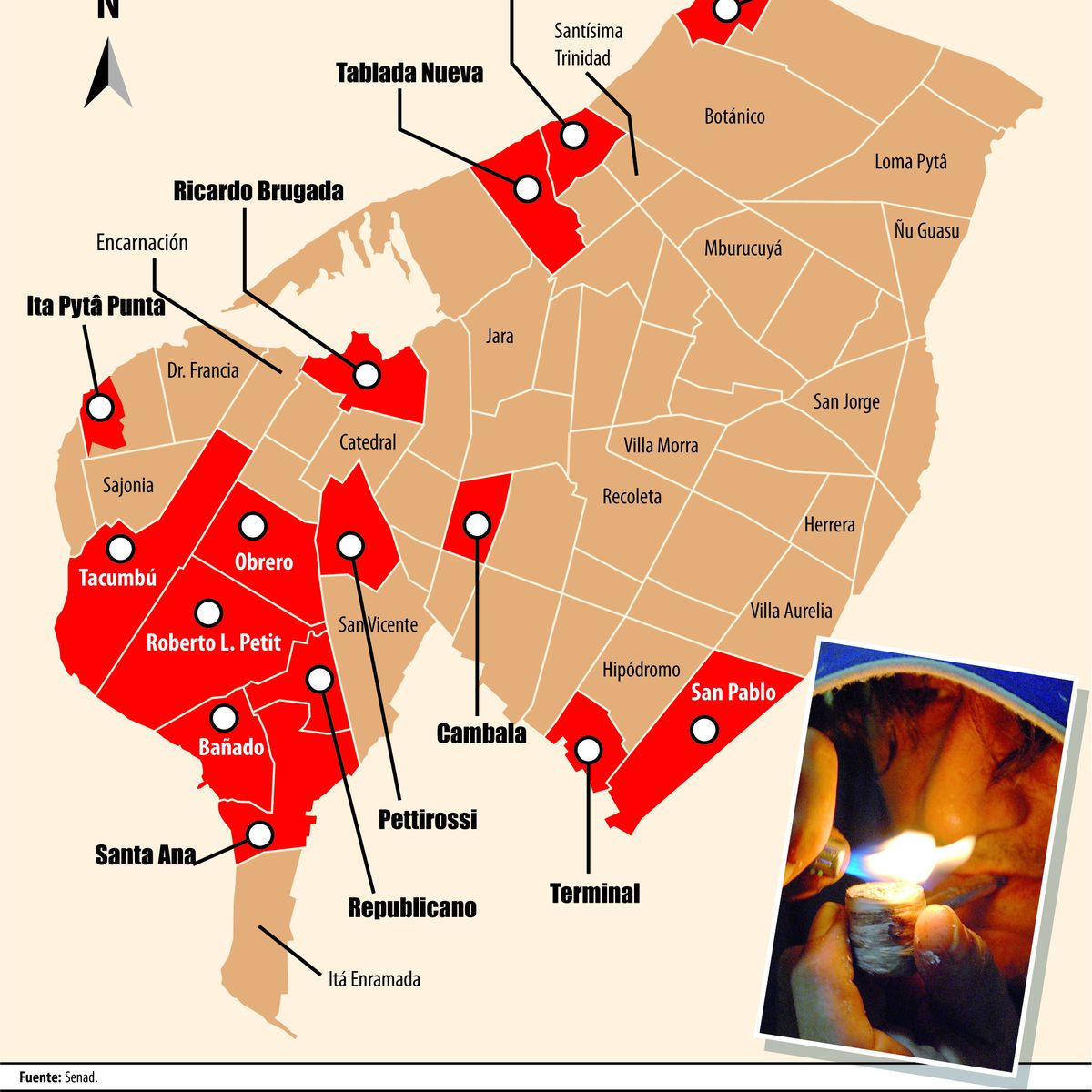 In principle, however, Asuncion is not a city with neighborhoods as dangerous as, for example, Bogotá in Colombia, Rio de Janeiro in Brazil or other South American cities. However, for European (and especially Slovak and Czech) proportions, some neighbourhoods in Asuncion are dangerous.
Safe, affluent, residential neighbourhoods in Asuncion
Ykua Satĩ

Las Lomas

Carmelitas

Villa Morra (here is also Hotel Five where most of us will find a temporary home at least for the first few days)

Recoleta

San Cristóbal

Mariscal Lopez – especially the northern part and the south of Jara – this is the part of Asuncion where the most expensive plots are sold, there are luxury residential villas.
Special tip for a nice colorful neighborhood to spend an afternoon – Loma San Jerónimo. A mini neighbourhood – a few streets where you can find colourful stairs and also nice murals (graffiti).
It's hard to tell the people of Asunción from the Europeans
In Asunción (and in Paraguay in general) the majority of the population is white and indistinguishable from Spaniards, Germans or other European nationalities. The reason for this is the Paraguayan war in the years 1864 to 1870 between Paraguay and the Triple Alliance (Argentina, Brazil and Uruguay), in which it is estimated that up to 69% of the Paraguayan population, mainly men, died. These were then 'imported' from Europe or the then Ottoman Empire.
As a side effect of the war, Paraguayan women became heads of families, left the household (which they had since lost in the war) and became involved in public affairs.
Polygamy was also publicly recommended after the war – each man was recommended to have several wives to bear his children. There are records that even Catholic priests were polygamous (e.g. Fernando Lugo, who was at one time President of the country. He conceived one child with a 16 year old girl, and one was conceived after rape, according to the mother's testimony.)
There are some interesting articles about this topic:
It is the Paraguayan War and the subsequent domination by Brazil until 1876 (or almost 100 years) that experts believe are the result of the stagnation of Paraguay's development and reflect what we see in Paraguay today.
Spanish vs. English in Asunción
The level of English of the locals is such that even I, who don't speak Spanish, spoke Spanish in Asunción because it was easier. Asunción will be your perfect crash course in Spanish. If you speak ZERO spanish, get Deepl ready to translate text and possibly Google Translate to translate voice or restaurant menus.
By the way, in Asunción there is a lot of communication via Whatsapp or Instagram. You can deal with restaurant reservations, spa bookings, massages and other services this way. We used Deepl extensively to communicate on Whatsapp.
Restaurants in Asunción
I gathered tips for good restaurants and coffee places in Asuncion. It's esential to understand that lunch is served until 2pm-3pm, and with dinners start at 7pm (sometimes 8pm). With jetlag after arriving from Europe, I was always hungry at the times when no restaurant was open. I solved this by stocking up on light snacks in the room.
Tierra Colorada – a restaurant that in the past received a Michelin star, the cooking is really really excellent, also the service is great, while the prices are absolutely minimal for such quality (the bill for two counts about 40€ – 50€). It's one of the most expensive and luxurious restaurants in Asunción, people tend to dress up. On the other hand, my pink rubber flip-flops didn't bother anyone though. A good tip will solve that 🙂 In the evening you need reservations ideally 1-2 days in advance, for lunch you do not need a reservation. To book a place, text via WhatsApp to this number +595 991 425533.
Alma Cocina – also a perfect restaurant, very nice, in a large garden. Advantage for jetleggers – it opens already at six o'clock.
HIPPIE CHIC SOUL FOOD – such a hipster place, as the name suggests. We haven't eaten there, but it looks good and has good reviews.
Zulu Rooftop – kind of a posh rooftop, but very nice seating, view and food too. Need to book in advance via their website, especially for later in the evening.
Il Capo – I haven't tried it personally, but there's a lot of info going around that they cook well. 
La Cabrera – one of the best-rated restaurants in town. I haven't been in person, but the references are very good. Ideal need a reservation.
1688 Resto – this looks like a very solid Italian restaurant + good drinks.
Su – Korean restaurant, supposedly good 🙂
Sushi Koi – besides sushi you can chat about crypto here, they already know the Slovaks who came here for permanent residence.
Trattoria Tony – Italian restaurant, very well rated.
Bolsi – restaurant in the historic centre, serving mainly Paraguayan dishes.
Taberna Espanola – also in the centre, Spanish restaurant.
Cafes in Asunción
Asunción is not a hipster coffee mecca like Medellín, Colombia. Paraguay grows some coffee, but it lacks both altitude and coffee culture. The locals drink sweetened coffee with sweet whipped cream, they call it malteada. If you have it with a sweet medialuna croissant and repeat it 1 week in a row, your diabetes is taken care of 🙂
I'm personally a fan of filter coffee, but I'll settle for a good cappuccino. Fortunately, Asunción has a few cafes that catch up to the standard of Bratislava, Brno or Prague. Please, if you've found other good cafes, fill me in!
Kaffetario – very good cafe, from my experience mainly for filter coffee. The great thing is that you can also order from them with delivery through this service www.pedidosya.com.py/restaurantes/asuncion/kaffetario-menu
Café Consulado – together with Kaffetario, these are the two best cafes for me. They have filter coffee here too, but also cappuccino or breakfast and snacks are great.
El Cafetero – tried and tested good coffee (cappuccino) and food, such a hipster cafe.
ALVICA – paraguayan coffee roasters. I'm not sure if there's a cafe here or if they just sell packaged coffee. Need to find out before going there 🙂
Mary Coffee – perhaps the closest café to Hotel Five with decent coffee. They were closed when we arrived, but from the pictures it seems they can make a good cappuccino.
La Cafebreria – also close to Hotel Five, it's a huge cafe where almost every night there is a live art performance – theatre, singing, piano playing. They're quite international. You'll find several rooms and each one has a different theme. In one of them, for example, there are comics and games you can play. They have very nice staff. It was here (not knowing it was going to be an insulin bomb) that I tried a malteada and ate it with a sweet croissant.
El Cafe de Aca – this place is great for breakfast or brunch and also for maté and the cold version of maté – tereré, which is a Paraguayan specialty. I definitely recommend trying it here. They don't have good coffee here.
Black and Go – a small place for coffee to go. I had high hopes for it because of its hipster name, but in the end they didn't even have the coffee machine on for half an hour after opening 🙂 Anyway, I'm putting it here, maybe someone will find it useful.
Temperance Coffee and Tea – also near Hotel Five, I didn't get a chance to try it, but judging by the photos it could be decent 🙂
Vegan stuff in Asuncion
Eco Tienda + Vegan Restaurant – something for Vegan food lovers or for those who want to buy eco organic raw stuff.
Alma Zen – vegan restaurant.
If you're looking for specialty foods that the Biggie chain doesn't have, I'd recommend trying La Marchante – they have two stores –  goo.gl/maps/mr9fmwAVf4zYCDYa7  and goo.gl/maps/MFkKMpVakqzETGq48.
For beer fans in Asuncion
The Walking Beer – artesanal beers from Paraguay and around the world, they have several branches.
Disco in Asuncion
Paseo Carmelitas – of course, one has to think about covid and other restrictions.
Where to buy bombillas and glasses for terere and mate?
Maté and tereré are a big thing in Paraguay. Almost everyone walks down the street with a thermos of water and a glass with a straw. Taxi drivers have a thermos of water and a glass strapped to the passenger seat, and the average Paraguayan can't imagine a day when they don't have a tereré.
You can taste the tereré at Cafe del Aca, for example.
We decided to bring our terere and mate experiences with us to Slovakia. Who would also like to buy maté/terré glasses and straws (bombilla), there are three shops in a row on this street. 
I liked the merchandise best at the second one, la bombilla py. The prices varied – they sold "tourist" cheap versions and also good quality cups and bombillas for real use. The more expensive bombille ones cost around 15€ – 20€, for the cups it depended on the type.
As for the actual yerba mate you use to make the terrera (or hot version of mate), there are many brands available in Europe. We bought ours in Paraguay to try their local brand. There are several of them, we got a tip on Kurupí. You can find that in any supermarket (e.g. Biggie) in blends with different herbs.
Shopping malls in Asuncion
You can use the malls not only for the usual things (shopping for clothes etc), but also to buy a Paraguayan SIM card.
Salsa, bachata dance schools
If you want to make your stay more enjoyable with salsa or bachata classes, there are several dance schools in Asunción:
Food and coffee delivery service in Asuncion
Bolt Food or Wolt don't work in Asuncion, but the Pedidosya website/app does. You can order food, coffee or groceries there. I used it to order a great filter coffee from Kaffetario, which I didn't feel like walking the 2.5km from my hotel to. You pay in cash.
Taxis in Asuncion
Both Bolt and UBER work. We paid both in cash in Guarani. The prices are ultra low.
SPA v Asunción
For SPA and massage lovers, we have a tip for Calle 11 SPA within the community. Check out the massage and spa offer here: www.calle11.net/, book via Whatsapp, the number is on the website. They are not open on Sundays.
Design shops in Asunción
I was extremely surprised by how many design shops I saw in Asunción. It's clothing, lingerie, but also interior design. Design shops are scattered all over the city, but you can find more of them on Senador Huey Pierce Long Street.
Celia, our local liaison, recommended this designer to me, there were some really nice creative pieces there. However, you have to reckon that you have to pay for originality and design – the dresses cost from 300€ upwards.  
A lot of brands otherwise operate online on Instagram, like this one. However, I haven't been able to find them very much.
Another interesting brand I found is for underwear – Paraguayan lingerie brand www.kalua.com.py/locales.
Interesting facts and tips that may come handy
Who would like to bring local cigarettes from Paraguay for tasting (like our friends), Palermo is a local brand. You can also find them in all supermarkets.

The ubiquitous rose trees in Asunción are called Pau d'arco and it is from their bark that Lapacho, the famous herbal tea, is made.